Kleki needs your help
Dear artists and those whose loved ones make fantastic art with this website:
Since I've first put Kleki online in 2010, I've released
xxx
updates, of which
xx
were in the last 12 months. Today Kleki is an independent, free, open-source (as "Klecks"), and ad free painting application, that can be accessed from any device with a browser, so anyone can be creative without hurdle or distraction. You can really tell this approach resonates because just within the last 30 days, Kleki had
xxxxxxx
page views. We've grown into a large community! And within such a large community there is great demand for features, bug fixes, and tutorials, while the increased traffic also makes hosting Kleki more expensive. All of these needs can only be met if Kleki has enough resources, and that's why I'm asking you now to make a contribution. This is how Kleki is funded, not through wealthy financial backing, yet another subscription service, or distracting ads. It is funded by your donations, which benefit our entire community! Together, we can make a tangible difference for any artist, big and small.
- bitbof
Special Reward: Immortalize Yourself ✨
Donate $20 or more to receive a mention in the
Changelog
of an upcoming release. This thank you will remain visible forever.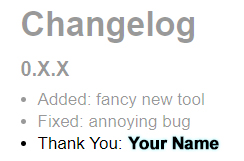 What goes into this website?
-
Hosting
(📈 ~500 GB monthly bandwidth)
-
Development
- Keeping Klecks (open-source version) up to date
- Testing (on various platforms)
- Buying hardware to test on
- For bugs
- For UX problems
- Art (made with Kleki)
- Guide development and serve as inspiration
- Tutorials
- Prototyping and research
- Implementing new features
- Optimizing load times and performance
- Fixing bugs
- Maintaining translations
- Improving documentation & teaching material
- Reporting issues to browser developers
Phew!
That's a lot, but absolutely doable with your help.
How did Kleki improve since 2010?
Check out the
Changelog Summary
, it includes some ancient screenshots!
Curious where Kleki is headed in the future?
The about page has a
Roadmap
.