Help
Shortcuts
Eyedropper

Right Mouse Button, or

Alt

+ Mouse

Hand Tool

Middle Mouse Button, or

Space

+ Mouse

Zoom

Scroll, or hold

Z

+ drag horizontally

Rotate View

Hold

R

and drag (+ Shift for snapping)

Fit Into View

Double click while using Hand Tool, or

Home

Save to Browser Storage

Ctrl

+

Shift

+

S

or

⌘

+

Shift

+

S

Relative Sliding

Drag with Right Mouse Button

Relative Sliding

Scroll-Wheel

Finegrained Sliding

Pull pointer away vertically
Touch
Hand Tool

Drag/pinch/twist with 2 fingers

Fit Into View

Double tap with 1 finger

Saving Your Image
Click on
File
then
Save
. Your image will be saved on your device usually under
Downloads
.
Keeping All Layers
Save as PSD
to save your image including its layers by clicking the dropdown underneath the Save button and selecting
"Save PSD"
. Layers will be restored when you open a PSD file. You can also open these files in other software (e.g. Krita, Clip Studio).
Save As:
PNG - lossless image without layers
PSD - image including layer information (Photoshop format)
Layers - each layer saved as a separate PNG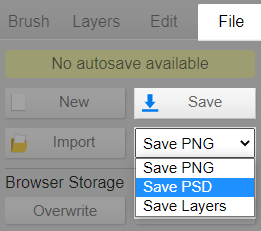 Importing Images
Import images from your Desktop by dragging them onto the canvas. You can then use them as a new layer or start a new image with them. Alternatively use File > Import.

Supported Filetypes:
JPEG, PNG, PSD (with limitations), (SVG, WEBP, BMP, GIF)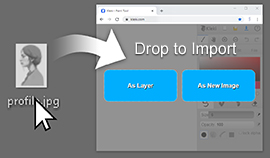 Browser Storage
This stores the current state of your image locally inside your browser. It also keeps all of the layers intact. When you reopen Kleki at a later time, it will automatically load the image.

Important:
- The browser may delete your image unprompted, depending on disk space and settings
- Kleki does not autosave, so you need to manually click Store
- Stores 1 image at a time. Pressing Store again, will overwrite the last image.

Use Save for permanent storage.
Pressure Sensitivity
If you use a stylus (Wacom tablet, Apple Pencil, ...) and your browser supports it, then Kleki offers pressure sensitivity. You can toggle it next to the brush sliders. That way your pen pressure can affect brush size and opacity.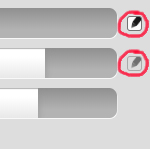 Input Devices
It is recommended to use a pen/stylus for drawing because it is by far the most fun, fast, and expressive tool for drawing. Touchpads/trackpads are not suited for drawing lines.
Use zoom and the stabilizer to increase the precision of your linework with any input device.

Stabilizer
Stabilization makes it easier to control your lines by lagging behind and averaging your drawing motion. This is mostly used to create clean final lineart. It can also help making drawing easier in general when you only have a mouse.

The responsiveness of no stabilization is desirable for fast sketching, or for large brush sizes, where jitter is less visible.

iPad is stuck zoomed in
Due to a bug in iPadOS 13, you can end up stuck zoomed in after double-tapping.
How to fix it:
- Tap on
A
A in the address bar
- Tap the left A once, then the right once
- Rotate your iPad 90° and wait for the orientation to change
- Rotate your iPad back into the original position and wait for the orientation to change
Now it should be back to normal.
Learning How to Draw / Paint
Free resources
Excellent art books
How to Draw - Scott Robertson
Color & Light - James Gurney
Pen and Ink Drawing: A Simple Guide - Alphonso Dunn
Figure Drawing, Design and Invention - Michael Hampton
Drawing on the Right Side of the Brain - Betty Edwards
Understanding Comics - Scott McCloud
The Animator's Survival Kit - Richard Williams
Drawing Course - Charles Bargue
There's art in everyone. We've only just begun to dip our toes into this invaluable and infinite sea of self-expression.